Community Events
National Tooth Fairy Day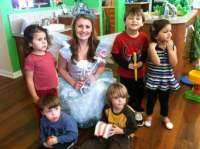 We celebrated this day at our office with a local mother's group, Mom's on the Go, and the tooth fairy!!
February is Children's Dental Health Month
This month nationally dentists are doing all we can to gain awareness of children's dental health. Our office provides oral health education programs (free of charge) to our area schools & preschools during this month. If you are interested in having your school participate in these programs please contact us for more information.
Here are some helpful tips for you and your family to promote healthy dental habits and reduce your child's risk of tooth decay:
· Sugary foods & drinks should be consumed with meals. Saliva production increases during meals and helps neutralize acid production and rinse food particles from the mouth.
· Limit snacking between meals. If kids crave a snack, offer them nutritious foods.
· Monitor beverage consumption – Instead of soft drinks & juice all day, children should also choose water and low-fat milk.
· Help your children develop good oral hygiene habits (brushing and flossing daily) and schedule regular dental visits.
Toys for Tots

We are serving as a donation site for West Pasco County's collection for Toys for Tots. Please bring any new, unwrapped children's toys to our office by December 14th.
Halloween Candy Buy-Back
We all know the ill effects of candy on the teeth, not to mention its detriment to nutrition. This Halloween we would like to encourage children to donate their candy to a good cause. All collected candy will be donated to our U.S. troops through the charity organization "Operation Shoebox." For more information about "Operation Shoebox," visit their website at http://www.operationshoebox.com/.
Please bring your candy during our office hours by Friday November 8th.
$1 per pound of candy
Children 12 and under only, Please.
Community Outreach: Infant Oral Health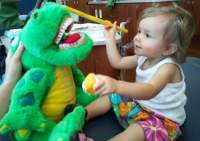 Free Infant Exam/Parent Education Appointment Program. Dr. Amanda will provide oral/dental education to parents (free of charge; see your pediatrician for a voucher) for infants 0-18 months of age. These efforts are made in hopes of providing greater community awareness of children's dental health and instilling preventative strategies, that may help combat dental decay, as it is recognized as the most common chronic childhood disease.
Wiregrass Wednesdays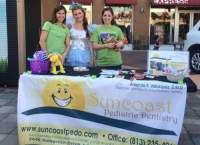 We love participating in the fun activities of The Shops at Wiregrass Wednesday Kids Club in Wesley Chapel. We provide oral health education to these children.
Toddler Time
Providing dental education to our youngest patients........we love these kinds of events. On May 4th, a local mom's group will be visiting our office with their toddlers in effort to introduce them to the experience of the dental office. If you have a similar group that you are interested in having visit our office, please feel free to Contact Us.
Girl Scouts: Respect Yourself & Others
This month we provided a fun & educational experience for our local Daisy Girl Scout troops. To earn the purple petal of the daisy flower, Dr. Amanda offer the girls education about the virtue "respect yourself & others." We spent the evening snacking on foods that are healthy for yourself & your teeth, as well as practicing our toothbrushing skills.